...and I hate it. It didn't turn green, orange, or disastrous but it's so freakin drab/boring looking. I wanted a auburn/reddish brown. I remembered that every time I've used a reddish hair dye the red came out way too intense and took like two weeks to fade to the color I wanted, but I still picked up a dye that looked pretty noticeably red because I wanted something fun and new. Now I have drab shit brown hair with red that only shows up in certain lighting. My mom and boyfriend told me not to dye it, but I'm obviously a dumbass. My mom actually ended up saying she likes it a lot and I should stick to this for a while. I have a feeling when my bf sees it, "What the fuck did you do to your hair" will be the first thing out of his mouth.
So I went from this color that I liked but was starting to get bored of...
To this blahness that gives me an oh so lovely Plain Jane look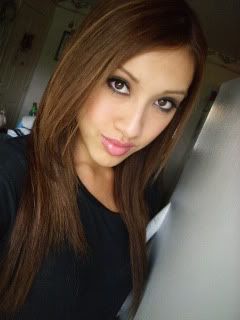 The red shows up in the sunlight...but I don't spend my days sitting in the sun to show off my hair color's full potential. My heels completely sunk into the grass which is why the pants look too long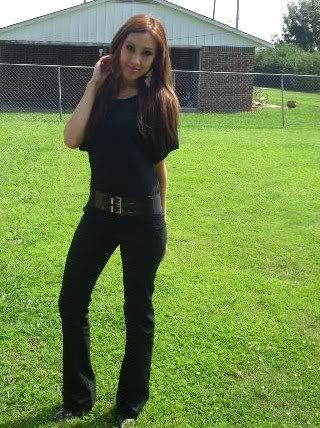 I have a little haul from yesterday that I'll post either later or tomorrow. I haven't taken pics yet. I finally found a pair of black pants in a size 3 long. I can easily find jeans in long lengths(but I wear skinnies 99% of the time so I can wear regular length ones), but everytime I find black pants they only come in one length. Since my shoes are rarely under 4 inches my pants need to be pretty long.
I needed to post just so I could complain. I know it's not drastic but I still don't like it :(. Can you recommend any red/auburn hair glaze type thing that'll boost the red? I don't want to be too rough on my hair by redying it especially since I want to grow it out.