I really want to enter
Jaime's
contest and I'm having such a tough time deciding on what kind of cake to use as inspiration. I make up my mind, then see something else and on and on.
I've come to the conclusion that my bf might not be insane just for thinking that Megan Fox isn't hot...I rarely find the very popular "hot" actors that attractive. I mean, I'd definitely take
50 year old Sean Bean
over anyone in Twilight(I haven't seen it, but I've seen enough of them to know I don't think they're hot, plus I've loved Sean Bean since I was 13 :P).
Anyway, this look is sort of like yesterdays, but with a few little changes.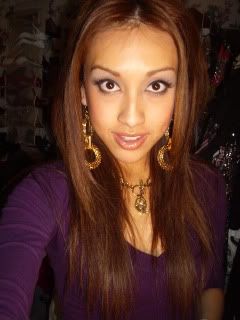 While making the video my brother was singing in the shower(very loudly)...I couldn't contain my laughter because of his choice of both vulgar and cheesy music. I really wish you could hear him on the video.