Ha, just noticed that in my video bar all my thumbnails are pretty much exactly the same. I'm looking down and in the exact same spot in the middle of the screen, but kinda close to the right. I'm either observant or in need of a more exciting life.
A couple videos I did last night
Barbie Inspired Pink with Blue
My eye makeup brushes
In the mood to blog, but I have nothing much to blog about really.
What's one little change you make to your appearance that makes a big difference to you? I know some people who don't even like to wear makeup, but they can't go without their acrylic nails....then there's some who wear makeup but don't mind pulling their hair back in a ponytail because they don't wanna bother fixing it. My mom always puts on lipstick, but she doesn't mind not wearing any other makeup. I had a friend who wouldn't mind going somewhere wearing old sweats and with wet hair, but she would not leave without a full face of makeup.
A big thing for me is having a tan, although I've been lazy with it more than usual this year. As vain and lame as it sounds, I really feel much better when I'm bronzed. I'm still looking for a HG body tanner, so if you have any suggestions I'll take em. L'oreal Sublime Bronze Pro Perfect Airbrush has been the best tanner I've used on my face, but I get inconsistent results with it on my body...sometimes good sometimes pretty bad.
See the difference in these two pics? I have zero makeup on in both of them obviously, but I feel like the first one isn't all that terrible while the second one is repulsive. In the untanned pic there's this ugly grayish cast that makes it look even worse, but you can still compare the difference pretty fairly since both are bare faced pics.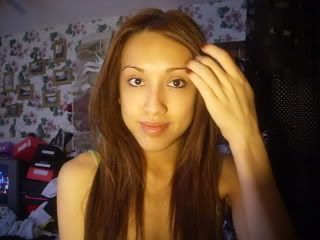 Removed the 2nd one because it's that bad
I have absolutely nothing against unbronzed skin...I just feel like it doesn't work
for me
...just like some people feel like they look terrible when they get darker(my mom hates when she gets more tanned). I never notice a difference when it comes to others unless they're super burnt orange or something extreme like that so I know people won't actually see much difference on me, but it's still a big deal to me :D.
Another one for me would be nails...I don't mind not having any polish on my nails, but I absolutely cannot stand to see chipped polish on myself. It truly bugs the hell out of me
When it comes to cosmetics, the most important things to me are falsies and some sort of lip product whether it's lipstick/gloss/balm . I prefer falsies over mascara just because I can put falsies on faster than I can do mascara. I could live with no makeup besides lashes and gloss.
What little things are important to you?