I've wanted to do a shoe collection post for a while, and decided to do it in parts since I have well over a hundred pairs(120ish is my guess). Here are my black non pattered/printed shoes. I'll save prints for another post...plus I realized that there are too many shoes in this photo to really see them individually. I think I'll stick to 5-10 pairs per photo from now on. I think less than a dozen of my entire collection are non high heeled :D.
Yeah, can't really see them individually but here's the photo anyway. You have to click the photo to see the entire thing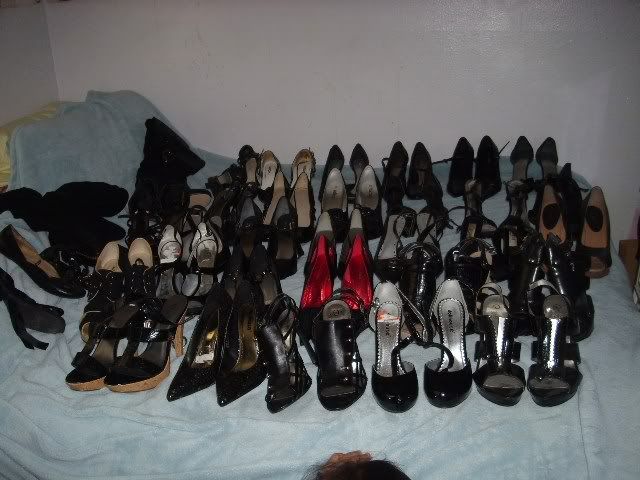 ------------------------------------------------------
I'm not good with reviews, but here's mine on
Organix Coconut Milk Anti Breakage Serum
(I mistakenly said it was the split mender in my haul post)
I've been applying a few pumps to my towel dried hair. It gives my hair a nice shine, not as much as a glossing serum would but nice nevertheless. I'm pretty rough with my hair(constant coloring and heat styling), but I've noticed that my hair isn't really breaking off when I brush it. Another thing I like is that it doesn't weigh my hair down so I can still use it when I want big hair :D.
To sum it up, I'll continue to use it and I'd definitely repurchase.
--------------------------------------------------------
I made a tutorial for this simple golden brown look...
here's the link
. I'll be speaking in my tutorials from now on. I'll work on being louder. It seems super quiet to me.
I don't feel like myself when I'm not wearing falsies :P