I wanted to do pink and purple smokey eyes because I loved
Katie's
makeup in her most recent post(She's more than awesome btw so if you haven't checked out her blog I highly recommend it). Unfortunately, I have a less than steady hand today. I turned my head to grab my phone while applying my liner...that caused me to draw a straight line from my lashline to right above my crease. I wiped off all my eye makeup to start over, and while I'm still wearing purple with a bit of pink I decided to skip the smokey look bc my application skills suck today. I should have went with falsies instead of mascara because the mascara wand met my eyelid a few times...ugh.
On the plus side, it's a nice warm day so I took advantage of that despite the fact that my legs need a little work. The elliptical and squats are old friends that I've sort of neglected throughout the winter. But...until cellulite comes into my life(hopefully it won't) I won't give up short skirts. Btw, I do NOT think I'm fat or have any body hatred issues despite my complaining. I get emails every now and then about my weight, so I had to mention that. I just complain a lot.

My brother and mom both have the wonderful habit of cutting off heads when picture taking.
In the first one, I told her to pose so she put her hands on her hips and stuck out her butt. In the last one I'm kinda mid-laugh which explains the awkward face.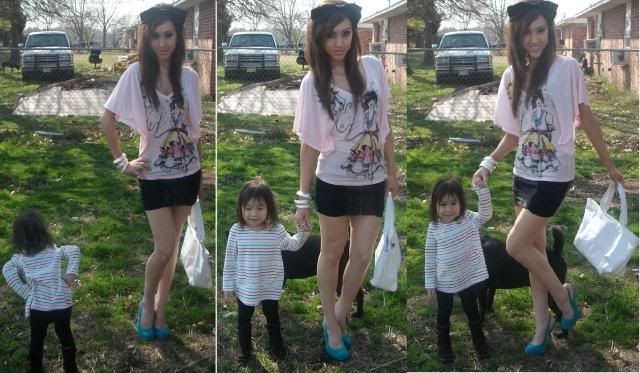 F21 skirt
Rue 21 shirt
Marc by Marc Jacobs bag(I would have carried a black bag if I wasn't too lazy to take my stuff out and put it in another bag)
Steve Madden Shoes
Headband was a whopping $3.99 at Ross.
Makeup
For those who've commented that I have "perfect" skin(thank you btw)...you can see here that my skin is definitely not flawless. Clear I guess, but you can see my not-so-invisible pores beside the bridge of my nose here. I'm not bothered by it enough to deal with regular foundation, but it's a bit disappointing to look at myself in a magnifying mirror. You can see the little bastards beside my nose directly in line with the top of my earring.
I'm wearing
Physicians Formula Organic Wear Bronzer+the matte finishing veil on my forehead
Hard Candy blush in Living Doll
Wet N Wild Lust palette(light pink on inner lid, matte purple on the rest of lid+crease, darkest matte purple on outer v and crease, white to highlight)
Coastal Scents 88 palette(bright pink)
Wet N Wild Idol Eyes Pencil in Techno on my lower lashline
Maybelline Gel Liner
Rimmel mascara
Maybelline Shine Sensational gloss in Cherry Bloom