My hair is a bit of a mess, but it's quite windy today and if I bother with making it look nice it'll turn back into a mess within minutes anyway. I brushed out yesterday's curls, threw in my bumpit, and called it good. With the exception of black pencil liner and a few nail polishes, I've never really used Wet N Wild makeup. Yesterday I noticed some cream shadow pencils, and they were a whopping $1.99 a piece so I picked up a few. I also bought their eyeshadow palettes in Greed and Lust(used this one today). The palettes were $4.99 so I didn't expect much...I was pleasantly surprised. I only used two of the shades in the Lust palette so far, but they're pigmented and they don't have that too hard yet chalky texture some cheaper shadows have. I wouldn't use the cream shadow pencils as eyeshadows alone since they're very soft, and I'd expect them to crease within a short time. I bought them to use as liners so that doesn't matter to me. I used Techno(purple identical to UD e/s in Fishnet) on my lower lashline today. It glides on very easily, but I've only had it on for 3 hours so I can't say whether it's long lasting or not.
To sum it up, I love what I've tried so far.
I also bought their Natural Wear powder, but I have to use face products for a few days before I can judge them.
No falsies today because I wanted to try out that Rimmel mascara in the pink tube(forgot the name). For some reason my bottom lashes are longer than my top ones, so my lashes suck big ones. Here that people at Latisse? Feel free to send some free stuff my way. I won't hate you for it.
It's sunny today, so these are bright since I took pics by the window without flash.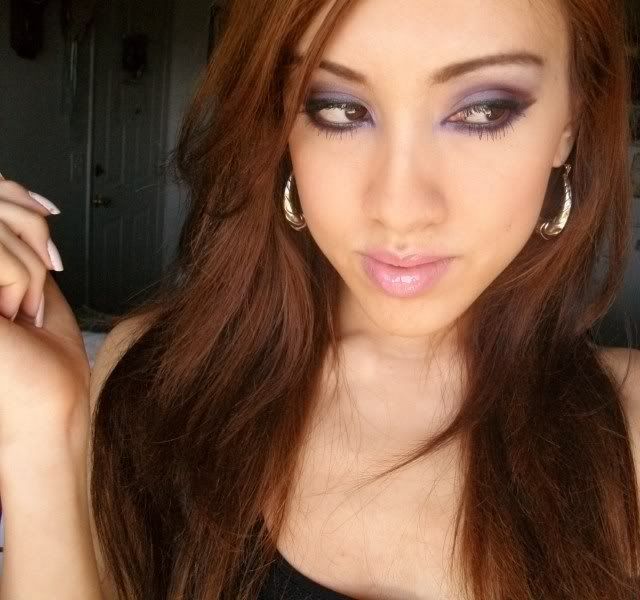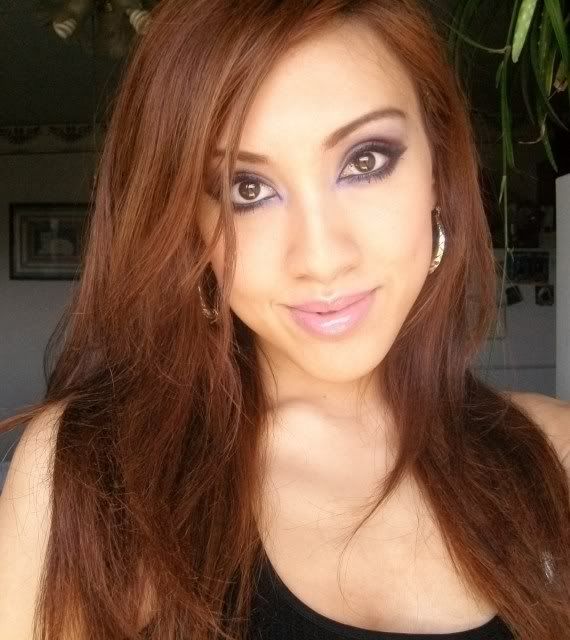 With my sis...she has quite the extensive vocabulary for a 3 year old. She wanted me to help her find something, and when I told her I couldn't find it she said, "aww, I'm so disappointed now."
I told her to do something cute...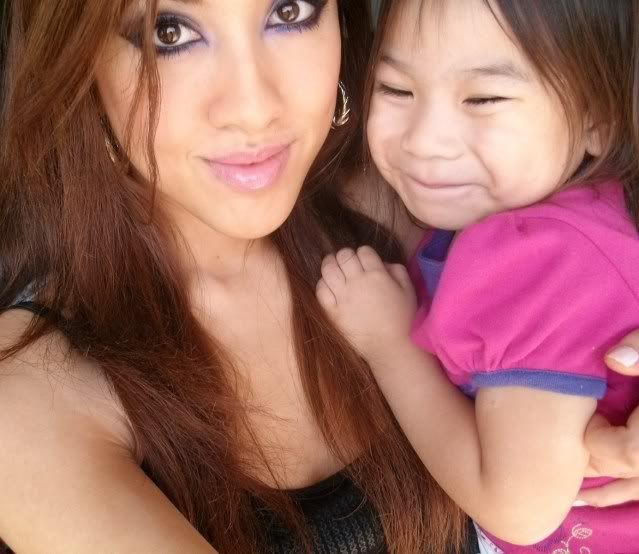 I used:
Wet N Wild Natural Wear Powder
Mac Pink Swoon Blush
Beautique brow pencil in brunette
L'oreal HIP Crystal Shadow Duo in Charming(purple on lid, white as highlight)
Wet N Wild Lust Palette-the two purples in the left column(pic below)-dark purple in crease, other purple over that to blend out the edges
Wet N Wild Idol Eyes in Techno-lower lashline
random black pencil liner
Rimmel mascara
Maybelline Color Sensational gloss in Sweet Tooth--LOVE THIS MORE THAN I LOVE CRUNCHY PEANUT BUTTER.
Eyeshadows I used: