I made this tutorial by the window just like I've been doing lately, except today it's super sunny. Being a dumbass and all I set my cream shadow palette right at the window after I used it...there's a glance of the lovely results in the video. I guess it's gonna be a pan for pressing pigments now :(.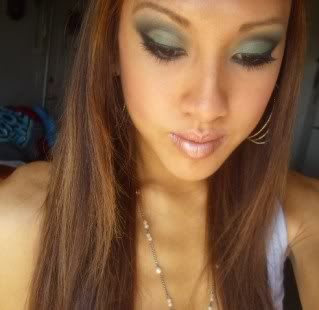 I'm wearing
Physician's Formula Bronzer
Mac Sunbasque blush
L'oreal de-crease
Revlon green cream shadow RIP
88 palette dark green and black
L'oreal HIP duo in Flare (highlight)
La Femme black gel liner
little falsies from ebay
NYX round lipstick in Iced Honey
My sister learned how to use the camera so she took pics of me when I was uploading the video.
You can see her finger in the way...she kept telling me to say cheese :D