First of all I'd like to thank you all for your comments about the new hair color. I can be one of those way too self conscious nightmares if I feel like somethings wrong(you know, WOE IS ME; MY HAIR COLOR'S SOOOOO UGLY OMG I HATE BEING ME :P). Your comments really helped quell my sadness :).
This is why I don't speak in most of my videos...I'm not exactly the most articulate speaker. I guess I should just work on it since it's much easier to explain things while speaking rather than typing it out. Earlier I wondered what it would look like if I wrapped my hair around two irons. I love wavy hair but a triple barrel takes forever for me and scrunching gives me inconsistent results. I know it looks like a pain, but I quickly got the hang of it. I used a 1 and 1/4 and a 1 and 1/2 inch iron. If I had any smaller irons I would have used those. I think that you'd need to use smaller irons if your hair is short.
No eyeshadow today besides using Maybelline's Antique Jade as a liner along with my regular black liner.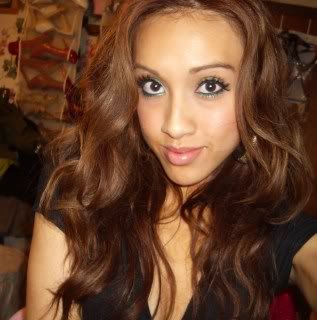 Few things I bought this weekend...the dreadful hair dye not included in the pic since I used it of course. I also bought a few items of clothing, but they're scattered throughout the house.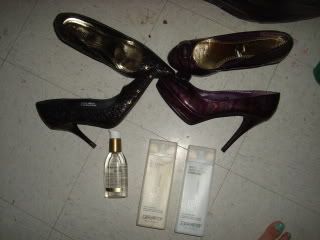 ~Pointy black pumps w/ gold paint splatters(I've loved pointy pumps since I was a little kid just because that's what my mom always wore)
~Round Toe Platform Pumps
~Giovanni Smooth as Silk Shampoo and Conditioner-my first sulfate free shampoo...I'll review it after I've used it at least 3 or 4 times
~Organix Coconut Milk Split End Mender...I'll also review this after a few uses