There aren't any coffee shops in my town so I have to make my own. If any of you drink homemade coffee, could you recommend something yummy for me? I ran out of the Starbucks stuff my local store had at one time...they don't have it anymore :(. All I have at home right now is this Folgers medium roast stuff and I don't care for it.
---------------------------------------------------------------
I'm thinking about trying bottom falsies, but I'm not sure if I'm brave enough to actually wear them out. Maybe I could get a pair or two for contests and that kind of thing though. I like the look of
this pair
. That site is really cheap too. The cheapest lashes I can get around here are the ones Walmart sells for a little over $3...I've never seen Red Cherries here unfortunately.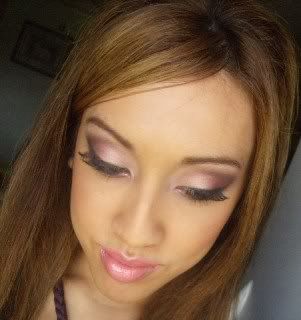 I'm wearing
UD Surreal Skin mineral powder
Mac Smooth Merge msf
L'oreal De-crease
Mac Carbon as liner and in outer v
NYX Sky Pink Pearl pigment
Ulta Flirty e/s
Red Cherry falsies #218
NYX Ballerina Pink round gloss