I did a video for this look on
my youtube
even though this isn't really that nice/intricate(I have my video bar on the side over that way---> too in case you haven't noticed it before). The hair's a crunchy mess...I used way too much hairspray because it rained earlier and it's quite humid now. Obviously I don't use hairspray that often since it looks like I'd ignite if I come within 3 feet of someone smoking a cigarette.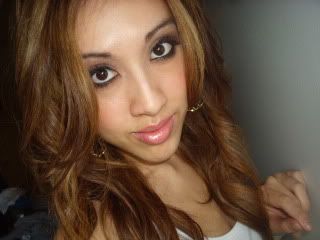 NYC loose mineral finishing powder
Mac Sunbasque blush
L'oreal de-crease
88 palette (2 bronzes, dark brown, black)
Mac Vanilla pigment
Revlon Colorstay liner
Red Cherry
#523 lashes
-I really like these...it's my first time using this style
Mac Way to Love l/s
---------------------------------------------------------------------------
My bf thinks I'm ashamed of him since I never talk about him or post pics of him(even though he knows this is a makeup blog and I don't really include personal/daily life stuff here). So this half of my post is for you dear Luke...I'm not
that
ashamed of you.
Luke likes Clamato beer(eww), annoying music, not wearing a shirt, getting enough sun to maintain a good tan, and sleeping. The poor guy has been putting up with me since January of 2004 when I was an evil 16 year old brat.
I'm in my scummy house clothes because I'll be home for the rest of the day.