This is for the lovely
Laura Faye's
Barbie contest.
I had on a demure knee length floral dress, but the colors looked too subdued to me in the pictures. I switched to the minidress because the dress color combined with my bag matched my eyeshadow perfectly. I stuck some flowers on my baby sister's easter hat which explains why it's so little :D. My makeup is pretty similar to the Barbie Loves MAC look because I'm not creative at all...I did mine a little brighter though. The close up pics were taken by the window since I wanted it to look nice and sunny.
Kentucky Derby Barbie
Barbie loves Mac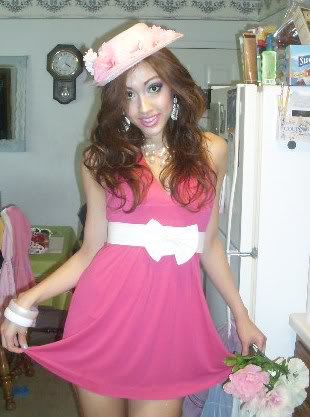 Sorry I couldn't do ya justice Barbie...you're just too damn good looking.
___________________________________
I had to add this one...
Leslie
fixed it up to give it a little kick. Looks way kickassier than the original up there.