No falsies today...I haven't been wearing eyeshadow the past few days which is why I haven't posted. Obviously I'm not wearing any today either, but I felt like posting. I thought I'd skip the falsies for a day just for kicks...I kinda feel like I'm nekkid :P.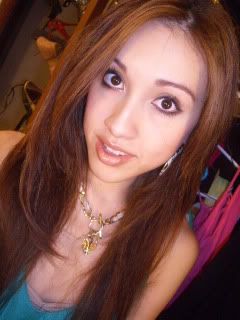 Pictures taken without flash in my room come out yellowish
Very uninteresting look, but I'll list the stuff anyway
Physicians Formula translucent mineral powder
theBalm Hot Mama
Revlon Colorstay in black on upper lashline
Random brown pencil with brand name rubbed off on lower lashline
Lancome Hypnose
Lancome Color Fever gloss in Summer Nights
Off to finish getting ready for a night of cheap vodka and wine...and stories and profound discoveries that are only profound after a few drinks.