I saw this at Saks and fell in love. I decided to buy it so I searched for it online since Saks is over an hour away from me. I was so excited when I saw it for sale on
eluxury
. As much as I despise some of Juicy Couture's stuff, I really like some of their leather bags. I carried a huge quilted black one all winter.
I have no explanation for this creepy dumbass smile, and I look like I'm missing a chunk of my leg where the light is hitting. I took it from far away since my hair's not brushed and I don't have makeup on...that's what huge sunglasses are for. I know my shorts are super short, but I'm not going anywhere nice and since it's not a skirt I don't have to worry about exposing anything.
I've had these shoes for nearly a year, but this is the first time I've worn them. I have the same pair in black that I've worn before though.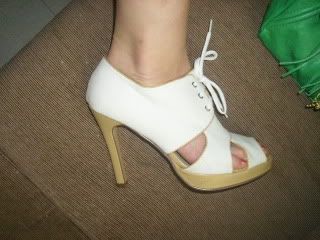 She likes it so I let her model the various ways it can be carried :D.