The pics I zoom in on get a bit blurry. I'll try to explain as much as I can to compensate for the shiteous pictures.
This is gonna be a pretty basic cut crease look. No matter what or how many colors I use, the application is pretty much the same...maybe just more time consuming because of blending more colors together.
I think the most important part of this is the transition color. It can look fine if the black is well blended into the main color, but I like it better when there is another color in between. I just use a color that's darker than the main color.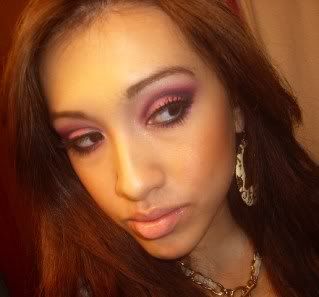 Highlight under brow...I'm using Milani.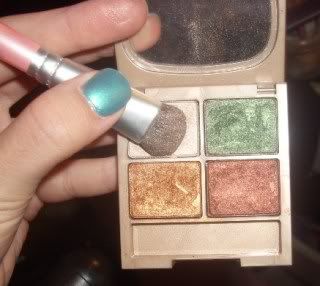 Apply main color on lid...go a little above your crease. I'm using a lightish pink.
Throughout the rest of this I'll be using the mini contour brush from Coastal Scents. I love how tiny it is; I have more control over where I want the e/s to go.
Put black e/s into your crease. I make a pretty dark line since it's going to be blended out.
Not blended yet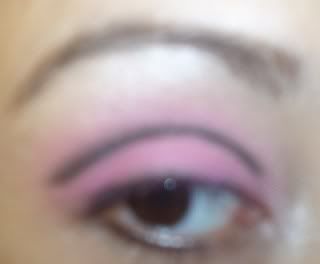 Blend the top and bottom of the black line to soften the edges
Apply red or fuschia over the edges where the black e/s ends on the top and bottom. This way there will be a gradient from light pink/fuschia/black.
Just applied, not blended yet
Go ahead and blend the harsh edges if you like. I don't blend at any particular time, sometimes I wait until I'm almost finished and sometimes I blend as I go.
Apply black from the outer corner of your eye to the end of the black in your crease. I do this since I don't like to leave the black line in the crease just hanging there at the end. This looks more complete to me. Blend it inward a tiny bit.
Just applied, not blended yet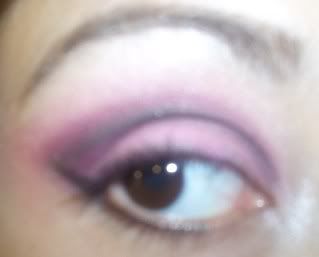 Apply shadow to the bottom lashline and finish whatever blending you haven't done. On the lower lashline I put the light pink on the inner half, the fuschia on the outer half, and a little black over the fuschia.
Eyeliner, mascara or falsies, then done!
After liner, no falsies yet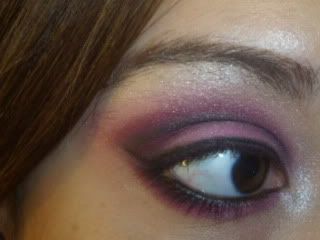 Finished...notice how clear this is compared to the zoomed in close up pics. I wish those came out like this one.
I threw on jewelry and a head band to look a little more put together...I was actually in my workout clothes. Decent from the neck up, sloppy everything else :D. I just washed the makeup off and got on the elliptical.
Gotta get that bikini body :P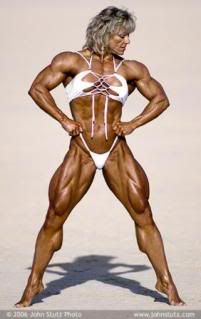 I'll do a better tutorial when I'm actually getting ready to go out. It's a little sloppy since I was just going to wash it off right away.
_______________________________________________________
I finally got to wear my new brown shoes. My outfit today...
The skirt is loose at the waist. I can't wear a belt with it since it will just bunch up.
Shoes :D