When I do my makeup I sit really close to the mirror...when I was done I backed up and realized that this was obnoxiously bright. Oh well maybe it'll make me easy to spot in a crowd.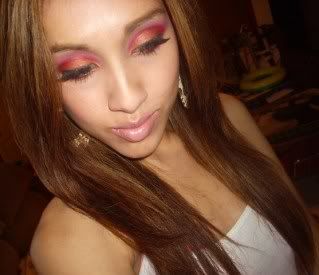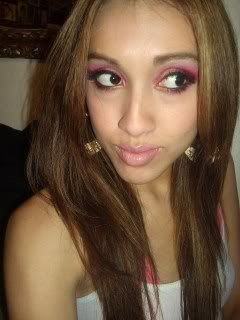 I hate when it looks like my face is lighter than the rest of my body like the picture above...I felt obligated to post proof that I'm not two completely different colors. I guess it just happens when my face is really close to the camera and my body isn't?
As you can see I really need some boobies. Why isn't there a workout for bigger tatas? Need a bigger butt do some squats, need boobs you're fucked. Poop.
I'm wearing
Everyday Minerals Pick Me Up Pink
Thebalm Hot Mama
Nyx Jumbo Pencil in Gold
88 palette-orange, dark red, hot pink, lighter pink
Revlon Colorstay liner
falsies
I don't remember what I used on my lips...it smells bad though.