I went light on the eye makeup today...no falsies or eyeshadow. It's nice and sunny today so I took these by the window instead of using flash.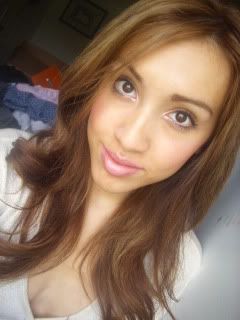 I'm wearing
Boots Botanics Tinted Moisturizer
Laura Geller Blush n Brighten in Berry with CG Snow Plum on top
NYX Jumbo Pencil in Yogurt on inner corners
Revlon Colorstay liner
Lancome Hypnose mascara
Mac Angel l/s
Bobbi Brown lip tint in Posey Shimmer
------------------------------------------
I've had these for months, but I thought I'd swatch them in case any of you haven't tried Ulta's eyeshadows. I really like them; I bought them during a sale so I payed $3.25 a piece I think.
Here's a size comparison with a Mac e/s
L to R-Sapphire, Granite, Flirty, Plum Smoke, Wildflower, Luna, Deep Sea, Radiant, Mineral duo in Sand Dunes
With Flash
Without