...for a very short time anyway. I don't usually take comfort or being practical into consideration when I get dressed, but today the combination of wind, slick sidewalks, and freezing rain won the battle- just this once. No open toed platform heels today.
I really feel like I need to get back to the self tanner...guess I just wasn't meant to be able to pull of a wintery complexion. I think I've been influenced by all kinds of beauty magazines and sites saying that tanning in the winter is sooo tacky and wrong and you're so eww if you do it...but some 'rules' need to broken.
I was going back and forth between belt or no belt. My final decision was no belt, not that it mattered in the end. Bf and brother had more important things to do today other than take my picture.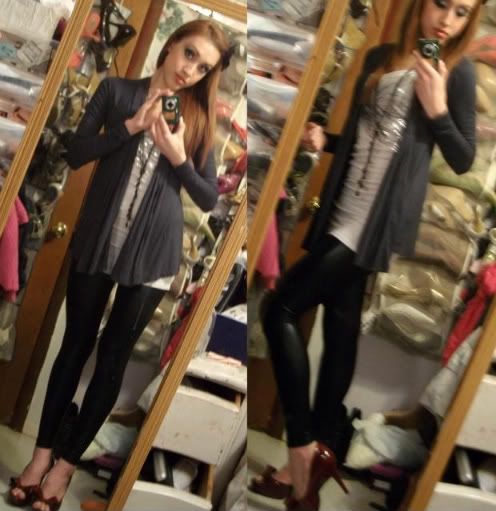 I did a tutorial inspired by Katy Perry in the 'If We Ever Meet Again' music video(I keep having to look the song up, I keep forgetting the title). For me reddish lip colors are strictly for tutorials inspired by someone wearing reddish lips or just playing around. Reddish lippies usually make me self conscious and feel like I look years older than I am. Sheer reddish balms are a different story; I usually like those(ex. Bonne Bell Dr. Pepper Lip Smackers :D).
Crappy shot of Katy's makeup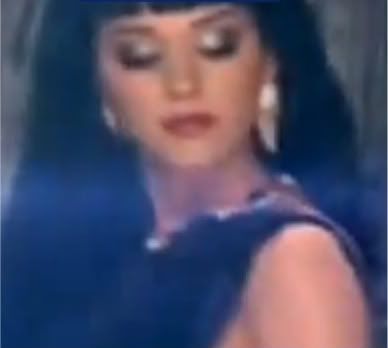 Makeup I used:
Maybelline Dream Matte Powder
Avon mineral blush in Golden Glow
NYC 927a liner on my brows
Almay Bright Eyes as base
L'oreal HIP Platinum and Adventurous
Mac Satin Taupe and Carbon
Gray from Revlon Sultry Smoke Colorstay Quad
L'oreal HIP black pencil liner on bottom lashline
Maybelline Gel Liner for upper lashline
CG mascara + falsies
NYX Peony lipstick