I've never been too crazy about gray eyeshadow, but all of a sudden I've developed a fondness for it.
Thankfully the camera I'm using does not overdo the flash like my other one.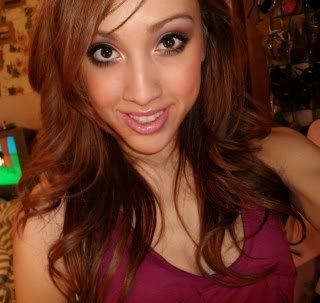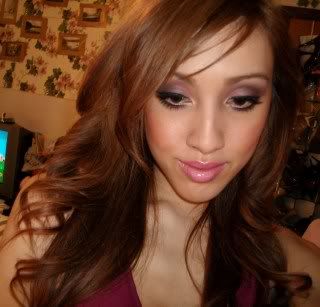 I made a video for this...got a little lamp happy. It's a bit overlit. I'll remember not to do that next time.
Stuff I'm using...
Physician's Formula mineral tinted moisturizer
Hard Candy blush in Pinup
Almay Bright as as eyeshadow base
Pink Milani e/s
Gray from Revlon Colorstay Sultry Smoke quad
Mac Vanilla Pigment
NYX Jumbo Pencil in Yogurt
Maybelline gel liner
CG mascara & falsies from ebay
NYX Round lipstick in Christie
Smashbox gloss in Pout
-----------------------------------------------
A lot of people I know stick to one perfume. While I like the idea of having a "signature" scent that people will remember me by, I don't think I'd ever actually be able to stick to just one fragrance. I want to try something new...what's the sexiest perfume you've found? I need some ideas. I don't prefer a particular type over another...I like different things depending on my mood or the weather. Here are a few of of mine...
My go to safe, non-offensive scent for when I'm going to be really close to a large number of people. It's a fruity floral, and it's on the light side.
Gucci Eau de Parfum II
This one's for cold weather. I find it cozy :). It's also a great boyfriend repellent. I always get compliments from strangers with this one, but he hates it. Douchebag. I don't touch it when it's warm out though; it just doesn't have the same effect...strictly for fall and winter.
Dior Hypnotic Poison
I've had this one for several years. It's a cold evening fragrance for when I want to convince myself that I'm sexy. This one is also a summer no no for me.
Givenchy Hot Couture...I lost the lid.
You know how some fragrances remind you of some old moment in your life? I got a sample bottle of this when I was 14 and absolutely loved it. I used up the little bottle, but never actually bought a full sized one until recently. It doesn't remind me of any event in particular, just that time period...my long lost youth, sigh :(. I don't actually wear it now; I use it as room spray.
Mat by Masaki Matsushima
I'm in the mood to expand my fragrance horizons so I'd love recommendations :).